TOP TECH UNI THANKS CALTECH LIFTS FOR HELP WITH MESSAGING APP
Caltech Lifts has been thanked for help with a messaging app by a world-famous US tech university!
Family firm Caltech Lifts was founded in 1978 by engineer Howard Renwick and changed its name in 1985 from 'Instrument and Control Engineering' to Caltech Ltd to reflect its move from calibrating, repairing and testing items such as pressure gauges into lift engineering – it stands for 'Calibration and Technology'.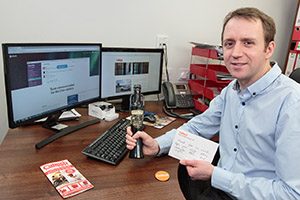 Recently his son Andrew, who now runs the company along with brother Fraser, got an email from a senior director of IT at the California Institute of Technology (usually abbreviated to Caltech) asking if the Dundee firm could help out their namesake with a problem on the company messaging app Slack.
A group of people at the US university, founded in 1891 and rated the world's best in the most recent Times Higher Education rankings, had been using the messaging system to reduce the number of internal emails and found it so useful they decided to roll it out to the rest of the staff. But when the IT person went to claim the organisation name 'caltech.slack.com' on the app they found it had already been taken by the Dundee lift firm!
They started using Slack about a year ago after Andrew Renwick complained to his brother Steven, who runs financial technology firm Satago, about how many of his daily emails were internal and how much time he spent dealing with them.
Steven recommended using Slack for internal organising chats because he'd found it transformed internal communications for him and his colleagues by being quick and easy to use as well as integrating easily with other systems. Since going on it the family lift firm has seen the benefits.
The first problem only came when they got the email from Caltech the university!
Speaking about the unusual request, Managing Director Andrew Renwick says: "I was quite surprised when I initially read the email, and half-wondered if it was a prank. But it quickly became clear it was real. Then I thought it was quite funny that a tech university rated the best in the world was asking if we would do them a big favour with a piece of technology!"
Although he doubted anyone would ever confuse his company, which is one of the UK's leading suppliers and maintainers of lift equipment, with the Californian university, Andrew agreed to have his firm's Slack name changed to ''caltechlifts.slack.com' as he realised the potential name confusion on the app could be a big problem for the university, which has several thousand users of the app. "It seemed the decent thing to do," says Andrew.
In return the university, best known as the fictional home of the lead characters in top US comedy The Big Bang Theory, sent him a bottle of extra virgin olive oil made from olives which grow on-campus, a Caltech badge and offered him and his family a free tour of the university if they're ever in the area.
Summary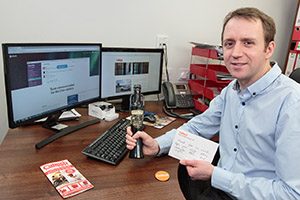 Article Name
Top Tech Uni Thanks Caltech Lifts for Help With Messaging App
Author
Publisher Name
https://www.caltechlifts.co.uk/
Publisher Logo