CALTECH LIFTS STARTS CUTTING EDGE £1.35M DUNDEE CITY COUNCIL PROJECT
Caltech Lifts starts work today on a cutting edge £1.35m multi-storey flats lift replacement project for Dundee City Council.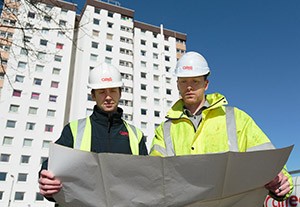 We were awarded the contract to replace eight passenger lifts in council-owned multi-storey blocks with state-of-the-art anti-vandal model at Ancrum Court, Burnside Court, Lansdown Court and Pitalpin Court, which have two lifts each – one for odd-numbered floors, the other for even ones. They each serve eight floors, rising a total of 40 metres.
The existing lifts, which are at least 20-25 years old, are being replaced to upgrade the service to the highest anti-vandal specification available and improve reliability for the residents who depend on them. The project is expected to take around seven months to complete.
We were among five firms invited to bid for the contract and the award was made after the December 2015 meeting of the council's City Development Committee.
Dundee City Council is one of several public sector clients for us. Others include the RAF and the local authorities in Edinburgh, Aberdeen, Aberdeenshire, Angus, Dumfries and Galloway, West Lothian and East Lothian. Private sector clients include the Balhousie, Meallmore and Randolph Hill care groups as well as Hillcrest Housing Association, Eddrington Group, Gillies, Thorntons Law and Graham + Sibbald.
Speaking about the contract win, Caltech Lifts Managing Director Andrew Renwick said: "We're naturally delighted to have won this work for Dundee City Council, with which we enjoy a long and positive relationship.
"This contract is a significant win for our business. Our pipeline for installation work over the coming two years is extremely positive and, coupled with our ever-growing maintenance portfolio – we look after more than 1000 lifts across Scotland, we're confident Caltech will continue on the consistent growth trajectory it's enjoyed for the past 10 years.
"As a direct result of this project we've taken on two lift engineers and are now recruiting two more. We may also have to hire more office support staff if the year goes to plan.
"We'll also be taking on a local Modern Apprentice as there's a shortage of lift engineers on the east coast of Scotland. We want to start a structured lift engineering Modern Apprenticeship programme in line with the work our trade association – the Lift and Escalator Industry Association – has been initiating on apprenticeships.
"The significant growth of the company over recent years has also forced us to seek bigger premises in Dundee, having outgrown our current base at Dundee Harbour.
"It's great to see the council being able to help local employers such as ourselves keep and create local jobs by awarding vital contracts such as this to local companies who can deliver so well on service, value and reputation that they win the business on merit. It's especially heartening to be able to create new jobs now in light of the major blows the Dundee economy has suffered in recent times."
Caltech Limited is one of the UK's leading suppliers and maintainers of lifting equipment, including passenger lifts, goods lifts, disabled access lifts and stairlifts to the Public and Private sectors. Last year we were accepted on to Business Gateway's growth pipeline programme.
If you have a contract or tender you'd like to speak to us about, get in touch via one of the methods listed on our Contacts page here – https://caltechlifts.co.uk/contact/
Summary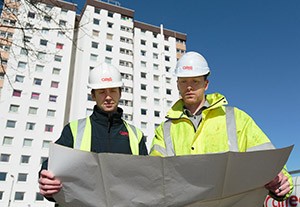 Article Name
Caltech Lifts Starts Cutting Edge £1.3m Dundee City Council Project
Author
Publisher Name
https://www.caltechlifts.co.uk/
Publisher Logo